Bonding in
Chino Hills, California
At VIP Dentistry, Dr. David Han provides beautiful smiles to patients in the Chino, Chino Hills, and Diamond Bar areas. Dr. Han offers a variety of cosmetic dental treatments, from teeth whitening to bonding, but he offers a superior result that focuses on the patient's total health. When he determines the best course of care for you, Dr. Han ensures you will receive a comprehensive treatment plan that addresses the health, comfort, and beauty of your teeth. If you're interested in improving the look of your smile with bonding, learn more below and contact our office with any questions.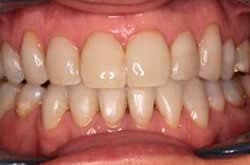 Bonding or composite veneer is a restoration made of composite fillings (tooth-colored fillings) sculptured onto the teeth. It effectively covers stains and discolorations without destroying the tooth structure and creating a natural-looking smile. It is painless and very conservative and usually requires no anesthetics because typically, Dr. Han does not have to reduce any tooth structure. It can be done in just one appointment.
Bonding usually lasts four to eight years and can be repaired during that time if there are any problems. Dr. Han pays close attention to the bite for your comfort and healthy jaw joints. In addition, he isolates teeth from saliva using a rubber dam to protect from moisture contamination as it can result in poor bonding, causing discomfort or pain after treatment. Proper home care and professional cleaning three or four times a year can help to minimize food stains.
Cosmetic bonding is an affordable, quick, and painless way to repair many cosmetic flaws:
Gaps between teeth
Spots or stains or stains that cannot be removed by teeth whitening
Worn or chipped teeth
Teeth that are too small
Crooked teeth
Misshapen teeth
Visit Our Chino Hills Dental Office
Dr. Han's cosmetic dental care improves smiles from the inside out, so our patients experience comfort, health, and beauty. A beautiful smile that causes discomfort or is short-lived is not worth the time or money, so we urge you to visit our office to learn about Dr. Han's unique approach. We are conveniently located in Chino Hills and proudly serve patients from our neighboring cities including, Chino and Diamond Bar. Please contact us so we can answer any questions and help you schedule your consultation at VIP Dentistry.